About Us
Service Area
We are proud to offer service to Salina and the surrounding areas including the following communities:*

• Aurora
• Gunnison
• Redmond
• Centerfield
• Manti
• Richfield
• Ephraim
• Mayfield
• Scipio
• Fairview
• Moroni
• Sterling
• Fayette
• Mt. Pleasant
• Tropic
• Garfield County
• Piute County
• Wayne County
* Our service area includes all of South Central Utah, if your city is not listed, please call and ask if we offer service in your community
History
Mission Statement:

We are a corporation focused on Commercial Mechanical Contracting, and Residential HVAC. We value education, quality work, and employee satisfaction - while achieving an acceptable return on investment.

History & Growth:

S.R. Mechanical, Inc. has been in the Mechanical Contracting business for over forty years. Under the direction of owner Steven A. Roberts, S.R. Mechanical, Inc. has grown from a small residential plumbing & heating company to a highly respected commercial plumbing & heating company.

SR Mechanical, Inc. was founded in 1973 under the name of Steven A. Roberts Plumbing & Heating. The company specialized in all types of residential plumbing & heating, conducting business mainly in the Central Utah area. In the early 1980's the company broadened its scope and area of work to commercial applications statewide. In 2001 the company decided to narrow its scope of work to commercial applications and subsequently changed its name to S.R Mechanical, Inc. for marketing purposes.

Experience:

S.R. Mechanical specializes in commercial plumbing, and wet heat systems, while subcontracting out the majority of our dry heat systems. We have recently expanded our operations into Arizona and are continuing to pursue operations into other states.

Currently SR Mechanical has three project managers each with a strong background in commercial plumbing systems and project layout. Their educational background and experience has enhanced their ability to manage a project well by utilizing their communication, goal setting, and pre-planning skills.

Our project foremen are exceptionally well qualified; all have experience and key knowledge in dealing with complex commercial plumbing, heating, and Med-Gas systems. Our foremen always have the opportunity to consult with Steve Roberts, SR Mechanical's owner, when needed. Steve's forty plus years of plumbing experience proves to be a valuable asset to the company when shared with our foremen on a regular basis.

Our Qualifications
We are heating and cooling Professionals! We maintain a high level of quality among our staff. All of our installers and technicians are trained on a regular, on-going basis. We, and they, are certified by the following industry organizations:

License Number: 4737483-5501 (S210 - Plumbing) (S350 - HVAC) Bonded & Insured
BRYANT FACTORY AUTHORIZED DEALER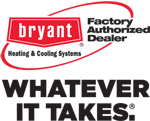 What makes a Bryant Factory Authorized Dealer stand out is the unparalleled performance the company offers -- true excellence in every aspect of operations, product solutions and technical know-how.
Look for the Bryant Factory Authorized Dealer emblem which indicates your dealer has met our high standards for superior skills... superior service... superior products... superior comfort... and a superior promise -- in writing -- of 100% satisfaction, guaranteed. This is what our Bryant Factory Authorized Dealer and the dealership emblem stand for.
Utah Plumbing & Heating Contractors Association
We are proud to belong the Utah Plumbing & Heating Contractors association